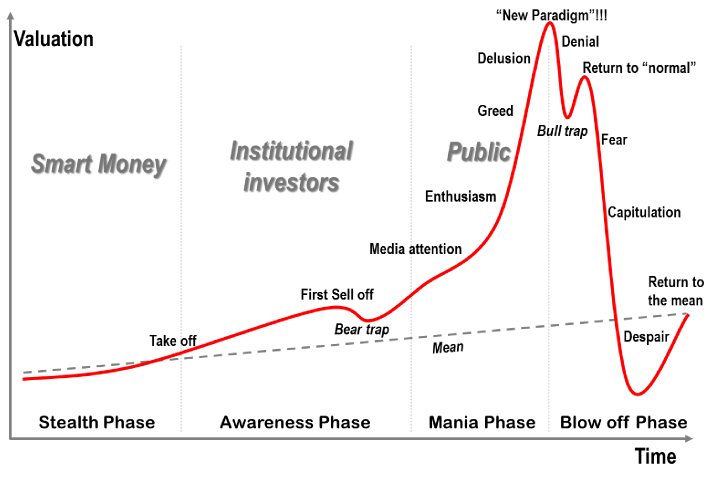 No investor wants to be on the wrong side of a market cycle. In hindsight, we can pinpoint when one market cycle ends, and another begins. However, it's impossible to predict when and what circumstances will usher in the next cycle.
According to the illustration above, currently (2021-22), we are in the Mania Phase of the market cycle. In the "Mania Phase" assets can go from overvalued to more overvalued depending on investor emotions.
At some point, the credit market tightens, and interest rates are forced higher to combat rising inflation. Many borrowers are then unable to roll over their debts, and the cycle repeats itself.
The true intrinsic value of an investment property can't be easily attained. It's best to be used as a guide to evaluate the risk of investment at a given period of time. Real estate's intrinsic value can deviate from its market value based on a number of factors. The most common are supply & demand and the cost of capital (interest rates, etc.)
In our opinion, intrinsic value for real estate could be better characterized as its value when it reverts to the mean. The below illustration demonstrates how investors emotions and market forces can pull values like a pendulum in different directions.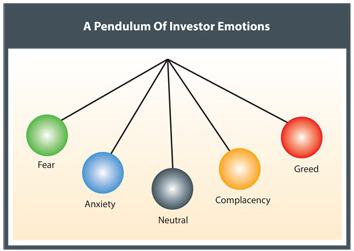 Using this pendulum above as an example. If the property's intrinsic was $100,000, then during market swings of limited supply and excessive lending (Greed) the value could be pushed to $150,000 or higher.
Conversely, the property's value could be pushed in the opposite direction toward (Fear/Anxiety), thereby lowering the value to $50,000 or less. During the Great Recession real estates intrinsic value diverged severely from its mean toward Fear & Anxiety.
At this point of Fear & Anxiety is where the best investments are available. However, it is also the hardest to find investors and financing.
Although, we would prefer to only invest during downturns in the market. It isn't practical to wait for opportunities. Instead, we create opportunities from finding motivated sellers using our aggressive marketing campaigns.
Disclaimer: The material presented on Expand Capital Group's website is for informational purposes only and should not be construed as investment advice. It is not a recommendation of, or an offer to sell or solicitation of an offer to buy, any particular security, strategy or investment product. Any analysis or discussion of investments, sectors or the market generally are based on current information, including from public sources, that we consider reliable, but we do not represent that any research or the information provided is accurate or complete, and it should not be relied on as such. Our views and opinions expressed in any website content are current at the time of publication and are subject to change. Past performance is not indicative of future results